experts in dings, small dents, and hail damage repair
Dent Viking is the area's leader in the Paintless Dent Repair (PDR) process.
Paintless Dent Repair is much different than traditional dent repair.  A skilled technician uses special tools to push, stretch, and blend on the front and backside of the damaged panel. 
By using unique lighting the technician can see the very small areas of moved metal and the process is accomplished by very small calculated manipulations of the material.
Slowly the metal takes its original shape and the end result is that the panel is restored to pre-damage condition.
Does it work for all damage? Unfortunately, no.  Contact Dent Viking to qualify your dent today!
DOOR DINGS
PDR is the optimal way to fix door dings. No need to repaint the whole panel for such a small area of damage. Keep your car looking new for a fraction of the cost.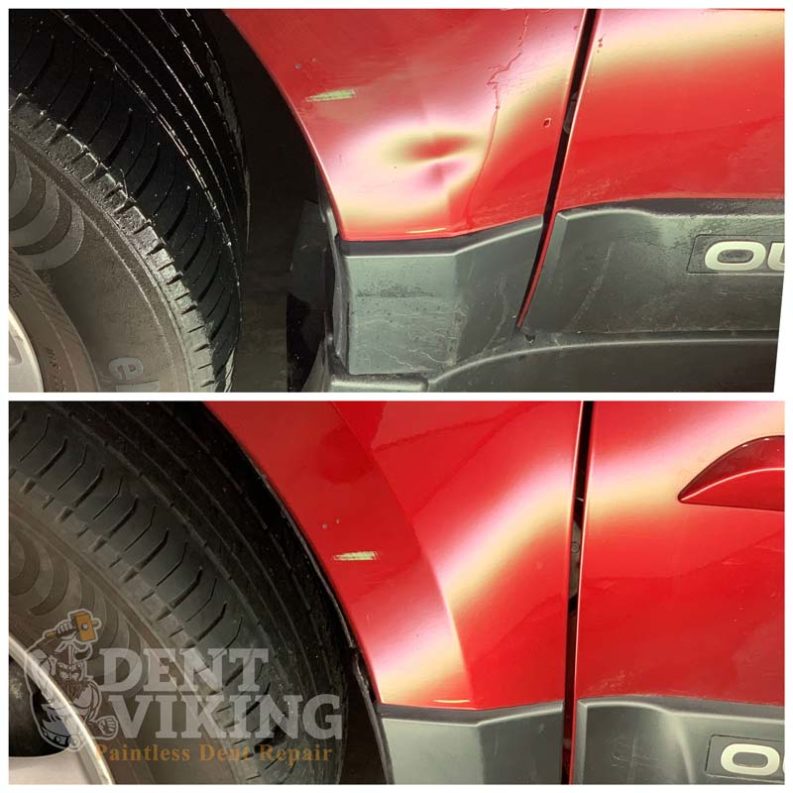 Small Dents
Some larger than "ding-sized" dents can be repaired as well. If the damage is not over-stretched and the paint finish is still intact, some dents can be reshaped just like door dings.
Hail DAMAGE
Hail damage can drastically devalue your vehicle. PDR is the best and fastest way to repair and maintain the resell value because it's the least invasive process. No Carfax!
Many of our leads don't qualify for PDR and end up needing a collision shop repair. Following this process helps us determine if PDR is right for you. 
Cell Phone: 208-625-9006
Email: jj@dentviking.com
1. Send Photos
Please send multiple photos of dent(s) to jj@dentviking.com 208-625-9006. Try to use reflection or lighting to show damage better. Also include a pic of the entire panel, so I know where the dent is generally located on the panel.
2. Send Information
Include in your message: 1) First and Last name 2) Cell phone # 3) Email address 4) Year and Model of your vehicle. Also include information about the vehicle, ie: if the panel was ever repainted before or if the panel is steel or aluminum (use magnet).
3. Estimate time!
After I collect all the info I need, I use an app to put together your estimate. Usually within 24 hours your estimate will be emailed to you along with a link to my online scheduler. There you can request a repair date and time.