Can Dents on a Car Body Line Be Repaired? Answer: Contrary to what some folks believe, dents that occur on car lines (body lines, contour lines, style lines, etc) can indeed be repaired with the PAINTLESS DENT REPAIR process. It is true that the process is more difficult, but the fact remains, it is possible! The approach is different and I will explain these differences below in the article.
What is a Body Line, Style Line, Contour Line?
For the remainder of this article, I will refer to car lines as "Body Lines". There are many names of them and I think "Body Line" is the most commonly used. The curves and contours of a panel are what give it distinction. The factory presses very hard and sharp body lines into the panels to enhance this style.
Door Dent on Body Line
Body lines on the exterior of your vehicle give your car or truck a bit of style. The downside of having all that style is that these body lines tend to protrude out from the skin. Why is that a concern? If the body lines stick out farther, its usually the first thing to get damaged in an accident. For example, if you are in a parking lot and the car parked next to you opens their door into your door, their door edge may just make contact with the body line of your door skin if it protrudes out farther than door skin.
Body line damage is very common on doors. Most newer models of vehicles have multiple body lines (on top, middle, and bottom of doors). Again, they look great, but they tend to hit first.
Dent on Fender Wheel Well Line
Both fenders (front) and quarter panels (rear) usually have rounded body lines that are typically located just inches above and run parallel to the contour of the wheel well. More added style and more added problems. The damage located on these fender lines is just as difficult (or even more difficult) to fix than the door dents. In a previous article, I discussed the challenges of accessing the wheel well on the rear quarter panels. Fixing 1/4 panel body line dents happens to be one of the most advanced repairs that PDR Technicians attempt.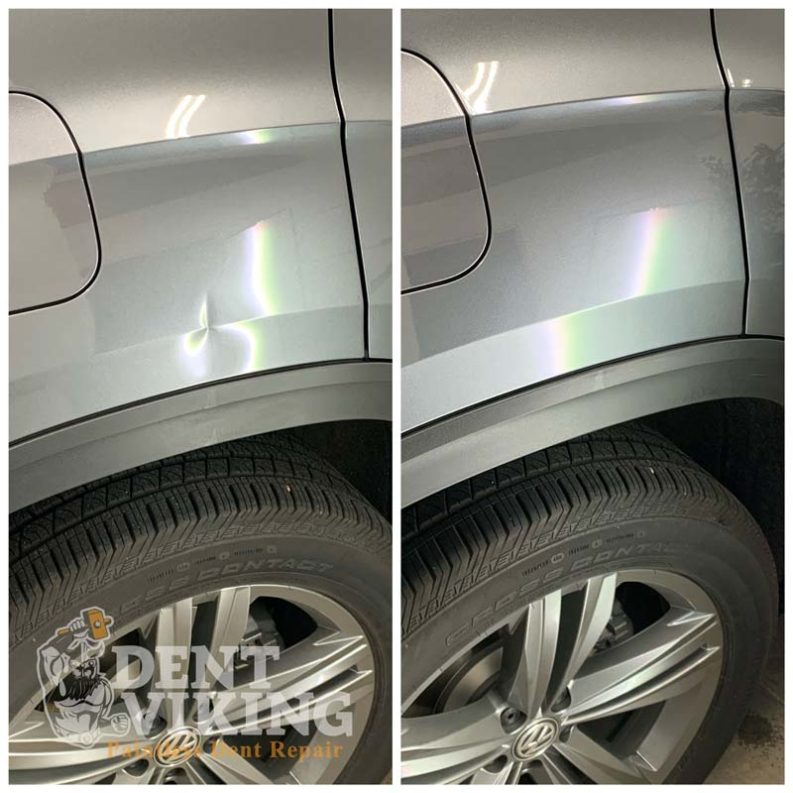 How to Fix a Dent on a Body Line?
The process for repairing body line damage differs depending on the situation. Typically the tech will concentrate a bulk of their pushes directly behind the skin of the body line. Once the shape of the body line starts to be seen the tech will decide what buckled metal to address with his blending hammer or knockdown. The tech will then address the low metal on either side of that body line and in many cases go back and forth between areas of damage. The tech takes what the metal will give as the metal slowly retakes its original shape.
These repairs are advanced repairs and should only be done by a highly trained technician. Every case that I have seen where a customer tried this process, paint damage was the end result. PDR technicians use specialized reflection to be able to see their pushes and blending. It takes a long time to train the eye to see and measure these pushes. PDR is most definitely not a DIY job.
To Sum Up
Can Dents on a Car Body Line Be Repaired? You betcha. But always call a technician or broken paint/ damaged skin can be your result.
Coeur d'Alene's Best Dent Repair
If you are located in the Coeur d'Alene area, Dent Viking is your best choice for paintless dent repair. You may be wondering Is Paintless Dent Repair An Option For Me? If so, don't hesitate to contact us today! We can give you a quick, easy, and free estimate and then schedule a repair. Most repairs take only a few hours or less! Save time and money with Paintless Dent Repair.